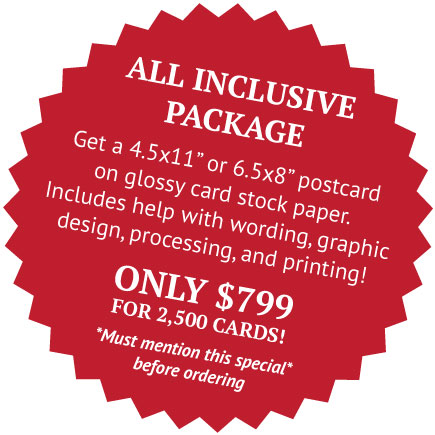 Our Every Door Direct Mail (EDDM) is very competitive and we offer printing with high quality postcards in a 14 pt. card stock , with 2-sided full color printing and free gloss coating if wanted.
The smallest sizes you can print for (EDDM) are an 4.5 x 11 or 8 x 6.5 post card. The Every Door Direct Mail Pricing is as follows:
The Every Door Direct Mail Pricing for an 8 x 10 Postcard (Most Popular) is as follows:
Postage is $.18 cents per home. 1000 homes and/or businesses will cost $180 and 5000 would be $900.
The fee for processing, counting, bundling, doing the paperwork and delivery to 2 post offices in Green Bay or De Pere.
If you mail to other cities there is an extra charge, call for a quote.
(there is no tax on this or the postage)
Design is available for $40 per postcard or I can send you templates for your designer.
The link to look at the areas to mail to is https://eddm.usps.com/eddm
I can show you how to pick out the area's or you can let me know which ones you choose.
EDDM Customer Direct
Robert Jahnke
2016-07-14T16:08:59-05:00